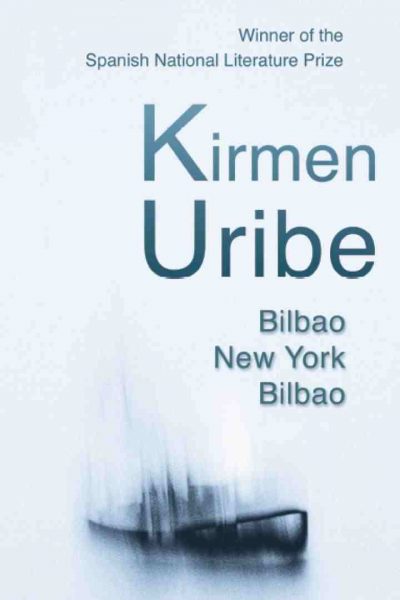 Bilbao – New York – Bilbao
2014
Translations: Translated into English (Seren Books), Spanish (Seix Barral), French (Gallimard), Japanese (Hakusui Sha), Russian (Gernika), Portuguese (Planeta), Serbian (Geopoetika), Bulgarian (Enthusiast), Estonian (Loomingu Raamatukogu), Albanian (Toena), Slovenian (Cankarjeva Zalozva), Catalan (Edicions 62), Galician (Xerais) and Georgian (Ilia University Press).
On a transatlantic flight between Bilbao and New York City, a fictional version of Kirmen Uribe recalls three generations of family history—the inspiration for the novel he wants to write—and ponders how the sea has shaped their stories.
The day he knew he was going to die, our narrator's grandfather took his daughter-in-law to the Fine Arts Museum in Bilbao, the de facto capital of the Basque region of northern Spain, to show her a painting with ties to their family. Years later, her son Kirmen traces those ties back through the decades, knotting together moments from early twentieth-century art history with the stories of his ancestors' fishing adventures—and tragedies—in the North Atlantic Ocean. Elegant, fluid storytelling is punctuated by scenes from Kirmen's flight, from security line to airport bar to jet cabin, and reflections on the creative writing process.
This original and compelling novel earned debut author Kirmen Uribe the prestigious National Prize for Literature in Spain in 2009. Exquisitely translated from Basque to English by Elizabeth Macklin, Bilbao–New York–Bilbao skillfully captures the intersections of many journeys: past and present, physical and artistic, complete and still unfolding.
Spain's National Literature Award
Mentions
"Uribe has succeeded in realizing what is surely an ambition for many writers: a book that combines family, romances and literature, anchored deeply in a spoken culture but also in bookishness —and all without a single note of self-congratulation"
"A splendid novel, which the reader acknowledges like a hug"
"The novel is set in a absolutely modern territory, usual place of key writers of our time as Emmanuel Carrere, WG Sebald, Orhan Pamuk and JM Coetzee"
"This book is as beautiful as a memory"
"Uribe's literary proposal is entirely fresh and innovative. A novel of our time. This writer who comes from a "small country" begins its journey through the field of universal literature, searching for transnational communications"